3 Reasons to Sell at United Pawnshop: Discovering Conveniently Accessible Pawn Shops Near You!
Established in 1987, United Pawnshop has been a trusted name in the industry for over 30 years. We take pride in offering courteous and dependable service to our valued customers. Our commitment is to provide you with the best prices for your possessions, ensuring a fair and rewarding experience.
United Pawnshop as One of the Leading Pawn Shops in Singapore
As one of the leading pawn shops in Singapore, United Pawnshop has built a strong reputation based on trust, reliability, and customer satisfaction. Our extensive experience and expertise in the field make us a preferred choice for individuals looking to sell their valuable items. We are dedicated to delivering exceptional service and upholding our brand promise. We understand the sentimental and financial value attached to your possessions, and we strive to ensure that you receive the highest level of professionalism and respect when dealing with us. Our commitment is to provide you with a seamless and transparent selling experience.
Why Sell at United Pawnshop?
Here are 3 reasons why United Pawnshop is the ideal choice for selling your valuable items in Singapore:
1. Free Appraisal with No Obligations
We believe in empowering our customers to make informed decisions. That's why we offer free appraisal services conducted by our team of experts. You can take the opportunity to engage our appraisal services without any obligations, giving you the freedom to evaluate your options and choose the best course of action.
2. Experts in the Field with Best Gold Prices
With years of experience in the industry, we have developed a deep understanding of various items' worth, including gold. Our team of professionals stays up to date with market trends to offer you the best prices for your gold and other valuable items. You can be assured that you will receive highly competitive rates and fair offers.

3. Convenience with Islandwide Locations
We understand the importance of convenience and accessibility when it comes to our services. That's why United Pawnshop has multiple branches conveniently located across Singapore, including Bukit Batok, Bukit Panjang, and Tekka. Our pawn shops are strategically situated near amenities such as bus interchanges and MRT stations for the convenience of our patrons. Two of our popular locations are:
Address: Blk 505 Tampines Central 1 #01-337, Singapore 520505

Contact Numbers: +65 6786 8681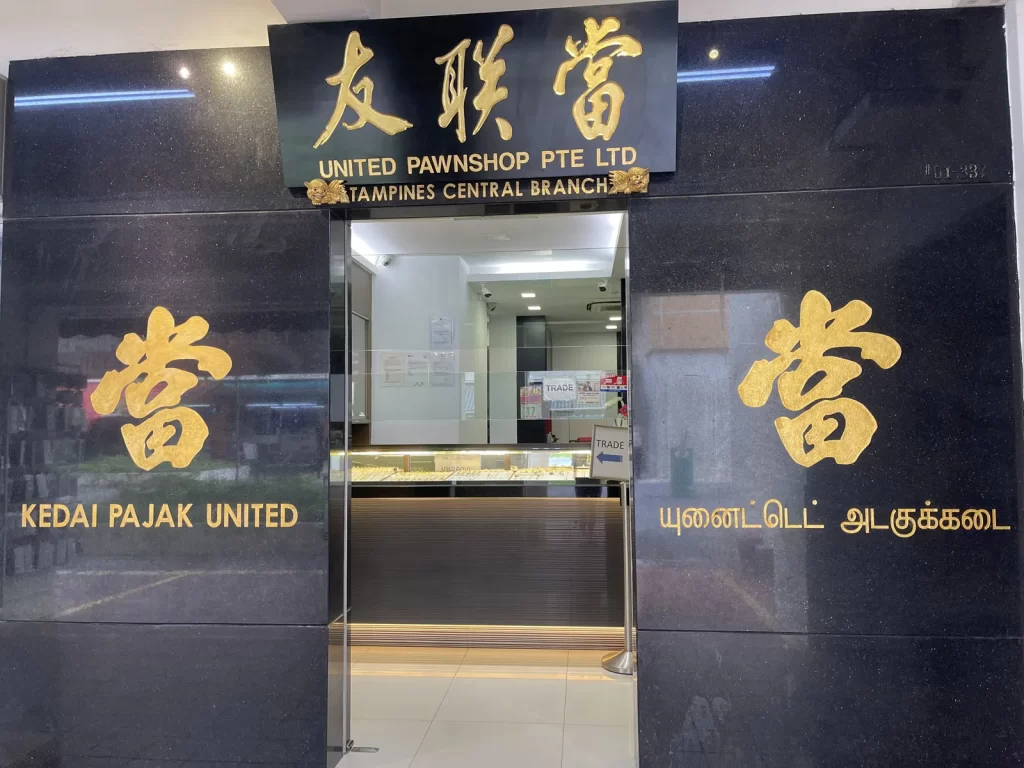 Situated in the heart of Tampines Central, we are just a 10-minute walk from both Tampines Mall and Tampines MRT, making us easily accessible for residents of the Tampines area. 
Address: Blk 447 Clementi Ave 3 #01-203, Singapore 120447

Contact Numbers: +65 6777 7922
Located in the heart of Clementi Central, just a five-minute walk from the Clementi MRT station. Both locations are are open 7 days a week (closed on public holidays), so you can visit us at a time that suits your schedule.
Golden Deals Made Simple: Our Easy as 1, 2, 3 Process
Step 1
Visit any of our pawn shop branches. Bring along items together with your identification documents.
Step 2
Get an on-the-spot evaluation of your items by our experts.
Step 3
Receive fast cash and make room for new additions to your collection.
At United Pawnshop, we prioritise your satisfaction and strive to make your experience as convenient as possible. Whether you prefer visiting our physical stores to enjoy a personalised experience or utilising our e-store for swift and hassle-free transactions, we are committed to providing exceptional customer service and a transparent process. We look forward to serving you!